Critical Theory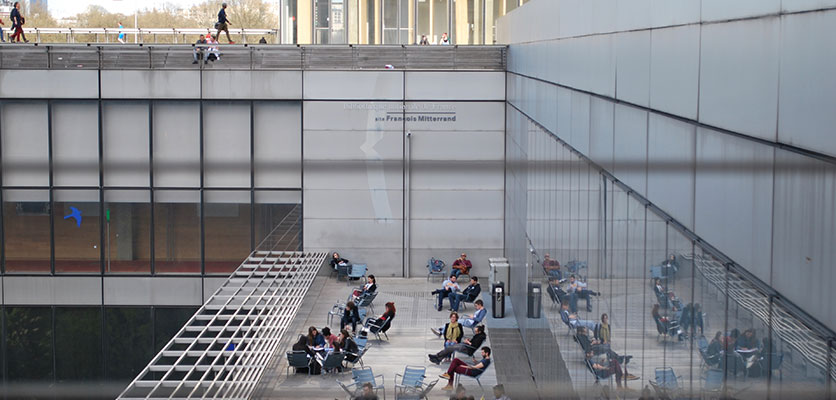 Our group supports Northwestern's strong tradition of critical theory through partnerships with École Normale Supérieure (ENS Paris), Institut d'Etudes Politiques de Paris (Sciences Po) and Sorbonne Nouvelle University. Undergraduate and graduate students from Northwestern benefit from tutorials and joint seminars in France. Faculty members also have the opportunity to collaborate on research and present work in American and French venues.
In addition to co-sponsoring events put on by the critical theory cluster at Northwestern, our group has supported programming in literary studies, political theory, continental philosophy, gender studies and other related topics. The lively debates at Northwestern have continued as visiting French faculty members often make return visits, or reciprocate hospitality and organize follow-up conferences at their home institutions in France.
Scholars
Northwestern scholars
French scholars
Related programs
Art, Literature and Contemporary European Thought
The Art, Literature and Contemporary European Thought program offers undergraduate students from Northwestern the chances to take courses in Paris taught by faculty from Northwestern, Sciences Po and Sorbonne Nouvelle University.
Paris Program in Critical Theory
The Northwestern University Paris Program in Critical Theory was inaugurated in Fall of 2001, under the directorship of Samuel Weber, Avalon Professor of the Humanities and FIG executive committee member, who brought the program with him from UCLA. It affords up to five highly qualified advanced Northwestern graduate students from a wide variety of disciplines a unique opportunity to spend one year in Paris familiarizing themselves with French and European theoretical research. Learn more about the Paris Program in Critical Theory.
Tri-University Dissertation Workshop
The Tri-University Dissertation Workshop between Northwestern, ENS Paris, and Johann Wolfgang Goethe Universität of Frankfurt-am-Main enhances graduate student research and scholarship around one of the strongest shared intellectual focuses of the three institutions: Critical Theory. Learn more about the dissertation workshop.
Conferences
Round Table on Charlie Hebdo and Beyond: Language, Power, Perspective, May 8, 2015, Northwestern
Derrida: Points of Departure, ENS Paris-Northwestern joint conference, May 2013, Northwestern
La Bible dans la pensée politique contemporaine, ENS Paris-Northwestern joint conference, April 2009, Northwestern
La Bible dans la pensée politique contemporaine II, ENS Paris-Northwestern joint conference, October 2009, ENS Paris
Dissertation workshops
Northwestern, ENS Paris and Goethe University Tri-University Critical Theory Dissertation Workshop:
June 1-3, 2017, Frankfurt
April 27-May 3, 2016, Northwestern
September 28-October 2, 2014, Paris
Talks
Isabelle Alfandary (Sorbonne Nouvelle University)
Marc Crépon (ENS Paris)
Amour et Politique: Kierkegaard et Martin Luther King, April 29, 2016, Northwestern
Charlie Hebdo and Beyond: Language, Power, Perspectives, May 8, 2015, Northwestern
The Thought of Death and the Memory of War Book Launch, May 14, 2015, Northwestern
Contrer la violence, réflexions après les événements du 7 au 9 janvier à Paris, April 23, 2015, Northwestern
The Trial of Hatred, April 28, 2015, Northwestern
Christoph Menke (Goethe-Universität Frankfurt am Main)